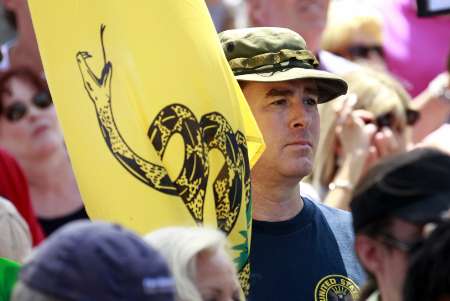 PORTAGE (WKZO) – A Tea Party rally is taking place Wednesday in the parking lot of the Kalamazoo Family Church at 2500 Vincent Ave. in Portage starting at 2 p.m. WKZO is providing a LIVE stream of the event below.
Live stream by Ustream
The Trifecta's Jay Morris will be emceeing the event and guests expected to attend include:
Jack Hoogendyk, U.S. Rep. candidate
Pete Hoekstra, U.S. Senate candidate
Clark Durant, U.S. Senate candidate
Gary Glenn, U.S. Senate candidate
Randy Hekman, U.S. Senate candidate
Amy Kremer, Tea Party Express chair
Phil Stinchcomb, Kalamazoo County Commissioner
Mike Holler, author of The Constitution Made Easy
Howard Kaloogian, Chairman of Our Country Deserves Better PAC
Jimmy Labriola, comedian from TV show Home Improvement
Lloyd Marcus, Black conservative singer/songwriter/author
Rivoli Revue, singer of viral YouTube video "Press 1 for English"
Diana Nagy, recording artist
The rally in Portage is just one of the many stops on the Tea Party Express' "Whistle Stop" bus tour from Wisconsin to Florida. The rally will be promoting the proposed two-thirds movement, which would require a two-thirds majority of both of Michigan's legislative houses to enact tax increases without a popular vote.
The event is free and open to the public.