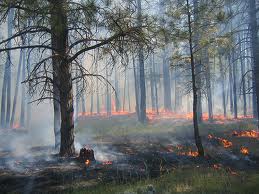 UPPER PENINSULA, MI (WKZO) -- After nearly three weeks of battling ferocious flames in Luce County, campgrounds, state parks and businesses that were forced to close have since reopened, and home and property owners were allowed to return on Friday. 'The trails are expected to reopen to the public this morning at 10AM.
The Duck Lake Fire left over 30-square miles of forest blackened and destroyed two lodges and three state campsites. It also destroyed about 50 private homes. DNR Wildlife specialists say fire is a natural part of the regeneration of life in the forest and the Jack Pines will regenerate in a few years. '
Their cones need intense heat to open. They say most of the animals were able to outrun the fire. It will all grow back but for at least the next few months, its going to be a pretty bleak landscape.