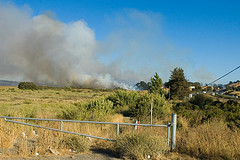 COLDWATER, MI (WTVB) - It's been awhile since the Branch County area has been served up a special statement by the National Weather Service to be extra cautious because of very dry conditions. The special notice went out this morning.
Canadian high pressure is settling into the regional and afternoon relative humidity values will drop into the 20-to-30 percent range today and tomorrow while increasing into the 25-to-40 percent range Friday into the weekend with more dry conditions next week as well.
When it gets really bad with the likelihood of fire danger, they call it red flag conditions. We're not there yet, but they say this doesn't mean that any burning activities are safe. Reports of grass fires have been on the rise since last weekend, and with not much if any relief in store this weekend, the parched conditions will only get worse.
If you plan on burning, make sure to check with local officials on burn bans that may be in place. Also, never leave a fire unattended and make sure you have a shovel, dirt, or water readily available.