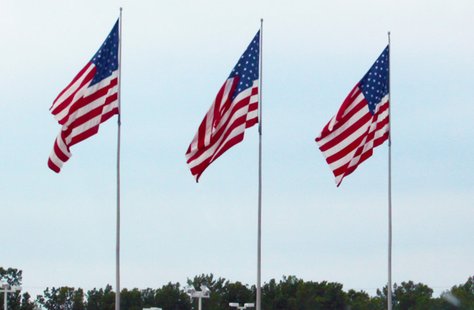 COLDWATER, MI (WTVB) - Today is the 235th birthday of the U.S. Flag and the Stars-&-Stripes will on display even more than usual today in Coldwater, known for years as the Flag City. The 48th Flag Day luncheon of the Branch County Republican Party women's group is happening at Noon today at the First Baptist Church in Coldwater.
The idea of setting aside a day to celebrate the American flag was suggested in 1885 by Wisconsin school teacher B.J. Cigrand. He wanted June 14th to be flag day because the Stars and Stripes were adopted as the official design of the U.S. flag on June 14th, 1777, when the "Flag Resolution" was passed.
In 1889, George Balch, a New York kindergarten teacher, planned ceremonies for his students to honor the flag. The idea was later adopted by the State Board of Education of New York. Other groups in Illinois and organizations like the Sons of the Revolution and the Society of Colonial Dames in Pennsylvania also organized events to honor the flag.
The idea grew in popularity until in 1916 when President Woodrow Wilson released a proclamation making June 14th National Flag Day. Then on August 3rd, 1949, President Harry Truman signed an Act of Congress designating June 14th of each year as National Flag Day.