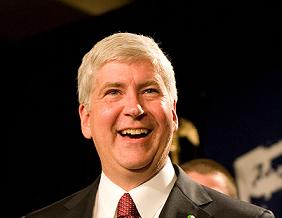 GRAND RAPIDS, MI (WKZO) -- Governor Rick Snyder was in West Michigan yesterday, and refused to offer specifics about an announcement on a deal to build the New International Trade Crossing, reportedly scheduled for this Friday.
A Canadian newspaper has already reported it's a done deal. Snyder would not confirm or deny that, but he did acknowledge that even when they launch the project, there will be obstacles to overcome. He expects to be sued.
The news prompted the Michigan House Appropriations committee to approve a measure demanding that any state money spent on the project be approved by the legislature first. Snyder has said from the beginning that the plan is to have the Canadians finance it and use the income from tolls to pay the mortgage.