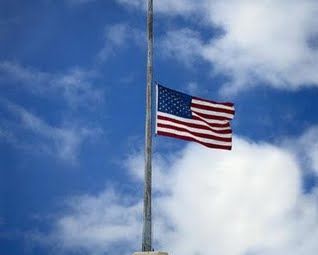 UNDATED (WTVB) - Governor Rick Snyder has ordered U.S. flags throughout the state to be lowered to half-staff in honor of former state Sen. William Van Regenmorter, of Jenison, who died Monday. Flags should be returned to full-staff the day after tomorrow, on Friday.
Prior to his retirement, Van Regenmorter served four House terms beginning in 1982, three Senate terms beginning in 1990 and was elected to the House twice more, beginning in 2002. During his tenure in the Michigan Legislature, he authored Michigan's Crime Victim's Rights Act of 1985 and sponsored legislation to encourage recycling, reduce crime and protect abused children.
When flown at half-staff or half-mast, the U. S. flag should be hoisted first to the peak for an instant and then lowered to the half-staff or half-mast position. The flag should again be raised to the peak before it is lowered for the day.