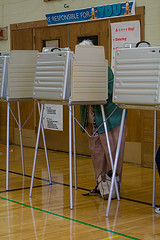 KALAMAZOO (WKZO) -- Legislation that could be signed by Governor Snyder this week seeks to change the voting process in Michigan.
Patricia Selby with Project Vote says some of the changes could actually make it harder for organizations like the League of Women Voters or the NAACP to help register voters by way of new regulations. Other bills in the package include the requirement of photo identification at polls where it sometimes had previously not been required.
The group believes it may be a case of corporate influence through groups such as ALEC, and they hope the Governor will veto the bills.