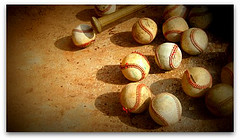 COLDWATER, MI (WTVB) - The Coldwater Mickey Mantle baseball team spilt a Battle Creek League doubleheader last night against the Spartan Baseball Club at Bailey Park. In game one, the Cardinals scored five first inning runs and never looked back in route to a 9-to-3 victory. Grant Mauer started and went four innings to pick up the win. Mauer and Jesse Mangat collected singles in a contest that saw numerous walks, hit batters and errors by the Spartans.
Coldwater dropped the nightcap 8-to-7. Randall Linton started and took the loss. Steven Seulzer singled, walked, was hit by a pitch and scored two runs. Grant Mauer added a double. Coldwater is now 7-and-5 overall and 2-and-4 in the Battle Creek League. The Cardinals get back into action tomorrow when they host the 2nd annual Coldwater Mid-Summer classic. Games will be played Friday and Saturday at Lowe and Borden Fields. Coldwater will take on Adrian tomorrow afternoon at 2 o'clock in their first game and then come back tomorrow night at seven to meet the West Michigan Maroons. Both of the Cardinal games will be played at Lowe Field.
In summer league softball, the Coldwater 14-and-under Northwoods Coffee Company team was a 17-to-2 winner in four-innings last night at home over Colon. Stacy Guzy was the winning pitcher with 6 strikeouts while Kendall Galloway had a double and a triple. The Coldwater team improved to 9-and-0 and tomorrow, they play at Bronson.