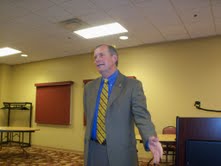 LANSING, MI (WTVB) - Attorney General Eric Holder is slamming the House committee that voted to recommend a contempt of Congress citation against him. Michigan Seventh District Republican Congressman Tim Walberg sits on the House Oversight Committee that made the recommendation Wednesday to the full House in a dispute over documents on Operation Fast and Furious, the botched ATF gun-trafficking operation.
In a statement, Holder calls the action "extraordinary, unprecedented and entirely unreasonable." Walberg said the vote is part of the Committee's pursuit and his personal commitment to provide the family of fallen Border Patrol Agent Brian Terry, a native of Michigan, with answers on why their son was killed by guns in Operation Fast & Furious that had been allowed to "walk" into the hands of criminals.
Walberg says it gives him no excitement or joy, but after a series of accommodations made by the Committee, he charges Holder and the Department of Justice continue to stonewall the Congressional investigation.