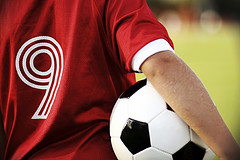 COLDWATER, MI (WTVB) - Dozens of youth soccer teams from around Michigan are arriving in Coldwater for the annual AYSO Section 8 Tournament that starts tonight at 6pm and runs through the Championship games on Sunday. Matches will be held at the Creal Soccer Complex and at Heritage Park in Coldwater.
Nearly 75 teams and around a thousand players ages 8-to-18 will be competing. Besides the dozens of volunteer referees who will be working the games, organizers say they could still use a few more helpers to man the concession stands throughout the weekend.
Meanwhile, there's also out of town summer league baseball players in Coldwater for the 2nd annual Coldwater Mid-Summer classic. Games will be played today and Saturday at Lowe and Borden Fields. Coldwater will take on Adrian this afternoon at 2 o'clock in their first game and then come back tonight at seven to meet the West Michigan Maroons. Both of the local Redbird's team games will be played at Lowe Field. Squads from Jackson, Battle Creek and Kalamazooare also in the tournament.