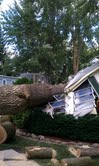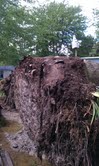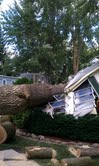 QUINCY, MI (WTVB) - A Branch County man might say he's living because of his laundry. The trailer home where Wayne Victor resides in AlganseeTownship was destroyed Thursday afternoon when severe thunderstorm winds swept across central and southern sections of the county. A huge cottonwood tree next to Victor's trailer was uprooted by the winds and fell on top of the home, basically crushing it and leaving the structure in shambles. The trailer is located on a lot along Rapp Drive off Lukesport road on a channel along the southeast side of MarbleLake.
When the storm started to arrive, Victor went outside his home to retrieve some items from a clothesline. As the rains and wind quickly intensified, he took shelter in a nearby tool shed and seconds later, the tree tumbled onto the trailer, landing right where Wayne had been inside moments earlier. By the description of the twisted appearance of the large limbs on the topside of the cottonwood, it suggested the high winds could have actually been part of a tornado.
Witnesses living in the area spoke of seeing waterspouts skippin g across Marble Lake Branch County Emergency Management Coordinator Tim Miner has submitted photos and other damage reports from Thursday's storm to the National Weather Service and will receive their analysis of what type of event it was that Mother Nature unleashed on the county this week. Several other incidents of property loss were linked to the storm, but no injuries were reported.