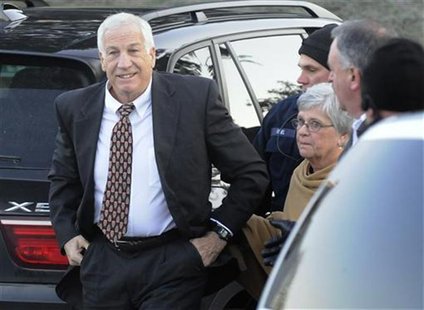 BELLEFONTE, PA (WTAQ) - Former Penn State assistant football coach Jerry Sandusky has been found guilty on 45 of 48 counts in his child sexual abuse trial in Pennsylvania.
Media reports say bail for Sandusky has been revoked and he will go to prison. He could face over 400 years in prison during sentencing within the next 90 days.
Jurors deliberated for nearly two days before reaching a verdict and heard days of graphic testimony from 10 boys who said the 68-year-old Sandusky abused them over a 15-year period.
Raucous cheers were heard outside the Centre County courthouse in Bellefonte when the verdict was announced.
This scandal led to the firing of legendary football coach Joe Paterno.