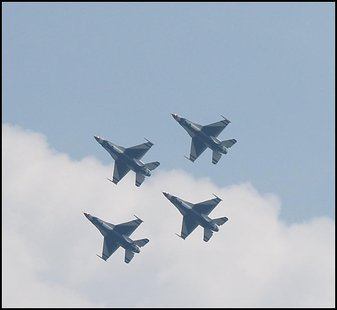 BATTLE CREEK, MI (WTVB) - Justin Verlander has zipped his fastball this season at 102 mph but J-V has nothing on ex-Tiger pitcher Dave Rozema who later this week will be clipping along at the speed of sound. Rozema is best remembered and known for being part of Detroit's 1984 World Series Championship team, but on Friday, he'll be in the cockpit of a U.S. Air Force Thunderbird on the Celebrity/Hometown Hero Flight.
It's part of this year's Field of Flight Airshow and Balloon Festival, which starts Thursday in Battle Creek. Besides Rozema's baseball exploits, he is also recognized for all his charity work in several communities, interacting with under privileged children, children with disabilities, and kids of all ages.
Dave will go through his fitting and training beginning at 7:30 am Friday at the WMU College of Aviation Classroom building located at the W.K. Kellogg Airport. His takeoff time for his hour long flight is 10:30 am. Michigan's only appearance by a U.S. Military jet team will happen at the Field of Flight event this Saturday and Sunday.