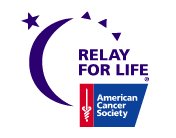 COLDWATER, MI (WTVB) - The crusade to find a cure for cancer had another 100-grand showing this past weekend at the 15th annual Branch County Relay for Life 24-hour fundraiser at Heritage Park in Coldwater….
Cheryl Back, the chairperson for this year's event at Saturday's Noon closing ceremonies said they're confident that with more than two months remaining until the August 31st end date for the Relay-for-Life fiscal year that they will be able to meet this year's campaign goal of $107,000.
Back said two more remaining fundraisers before September are a golf tournament and Bark for Life. Back also thanked the many Branch County Relay-For-Life committee members who work year round to make the event the success it is.
The person who brought in the most pledge money was Kathy Bear while the highest ranking team was the St. Mark's Episcopal Church, which also took home the award for the best decorated campsite. The most spirited team came from theColdwaterFreeMethodistChurch, which also had the top baton. And the winners of the raffle tickets were Virginia Sikorski-$500, Dave Rubley-$250, and Sheila Aley-$100.