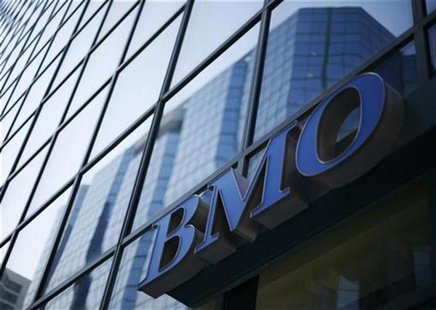 (Reuters) - Bank of Montreal plans to build on its 2011 acquisition of Wisconsin lender Marshall & Ilsley in five key markets in the U.S. Midwest, and said the 2011 acquisition will yield more annual cost savings than previously thought.
Speaking at an investor presentation in Chicago, bank officials said the $4.1 billion deal should yield annual savings of at least $400 million -- up from the previous target somewhere above $300 million a year.
BMO, which doubled the branch count of its U.S. Harris Bank unit with the acquisition, also reiterated its medium-term goal of profit of more than $1 billion from its U.S. retail and wealth business.
"That's about a fivefold increase from 2010," BMO Chief Executive Bill Downe told the audience.
The bank, which initially unveiled the target in March 2011, expects to achieve the goal in three years.
Canada's big banks are not permitted to merge with each other and so have looked to international markets to find growth. BMO and Toronto-Dominion Bank
both boast large retail bank networks that they expect to benefit from a recovering U.S. economy.

With the M&I deal, BMO now has 663 U.S. branches and is the No. 3 bank in the U.S. Midwest by branch count, trailing U.S. Bancorp and JPMorgan Chase & Co .

The bank is targeting growth in Chicago, Indianapolis, Minneapolis, St. Louis and Kansas City, through both organic growth and acquisitions, according to the presentation.

It plans to close 24 branches, 17 of which are in Wisconsin, due to overlap between M&I branches and BMO Harris branches, a spokesman said on Monday.

BMO, Canada's No. 4 bank by assets, has about 900 branches in its home country. The bank's shares were up 21 Canadian cents at C$54.93 in late-morning trade on the Toronto Stock Exchange.

(Reporting By Cameron French; Editing by David Gregorio)