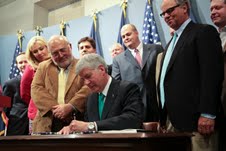 LANSING (WKZO) -- Governor Snyder has signed the state's $48 billion spending plan for the fiscal year that begins on October first.
He calls it a solid spending plan that increases funding for education, cuts taxes and puts some money away for a rainy day. It also doubles the amount spent on film credits. Democrats and school officials say the increase in education funding isn't enough to offset other cuts and schools will still be working with less money this year than last.
The new state budget moves up a reduction in the income tax rate from 4.35% to 4.25%. It was to take effect in January anyway. Now it will take effect in October. How much money will that put back in your pocket?
West Michigan Financial Consultants says not a whole lot.
Three dollars and change each month or about $40 a year. Democrats say it's an election year gimmick and small change compared to the new retirement tax, and the elimination of over half a dozen tax deductions that used to be available to the middle class.