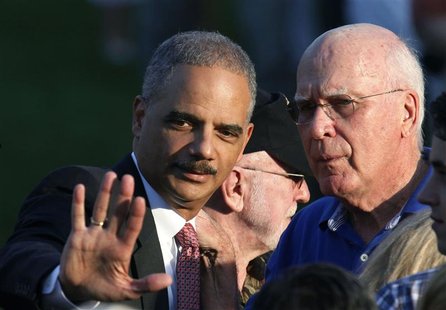 WASHINGTON D.C. (WTAQ) - U.S. Attorney General Eric Holder is held in contempt of Congress.
That's after the House voted to approve the move.
It centers on a dispute over documents on the botched gun-walking operation, Operation Fast and Furious.
A large number of Democrats, led by the Congressional Black Caucus, walked off the floor of the House in protest as the vote started. Holder is the first sitting attorney general in history to be held in contempt of Congress.
The White House has invoked a claim of executive privilege on the disputed documents. House Republicans accused the administration of stonewalling. White House spokesman Jay Carney dismissed the contempt move as election-year "political theater."
Enforcement of a congressional contempt citation is up to the U.S. attorney for Washington, DC, who works for the Justice Department. Therefore, the clash between the Democratic White House and the Republican-led House will likely end up in court.
Fast and Furious was designed to track U.S. weapons to Mexican drug cartels, but the ATF lost track of thousands of the firearms. Some were later linked to the 2010 shooting death of U.S. Border Patrol Agent Brian Terry. Democrats note that Fast and Furious had its roots in the prior Bush administration.
Attorney General Holder has insisted that he shut down the operation as soon as he became aware of it. He also ordered an internal Justice Department investigation, which is continuing.
Holder claims the Justice Department has already provided congressional investigators with more than 7,000 documents on Fast and Furious. House Republicans are demanding many more documents.