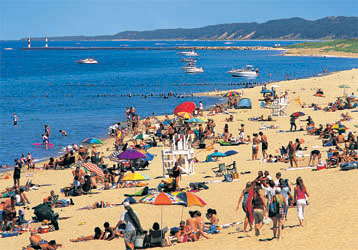 SAUGATUCK, MI (WKZO) -- Today could not only be the hottest day this year, but the hottest day this century. The area hasn't been above 96-degrees since the year, 2,000 and if we do hit triple digits, it would be a new high mark for the 21st century.
Already a heat advisory has been issued for Kalamazoo, Calhoun, Cass, St. Joseph, and Branch Counties for this afternoon. The hottest day of the year is probably the worst possible time to lose access to a public beach, but that's exactly the situation at the Saugatuck Dunes State Park.
Allegan County Health officials say routine random testing has discovered unacceptably high levels of E.Coli in the water in Lake Michigan. Its been closed until follow-up testing shows that its safe again.
A new water quality report shows Great Lakes beaches are among America's most polluted. Jon Devine with the Natural Resources Defense Council says figures show an alarming level of beach closures nationwide.