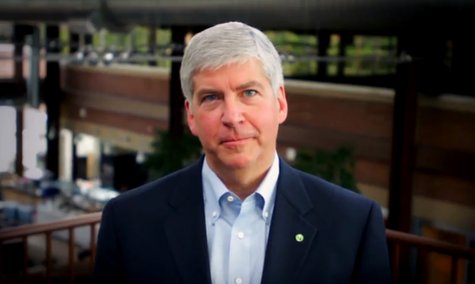 LANSING, MI (WTVB) - Governor Snyder today delivered his special message to the legislature on Public Safety and it included two areas of possible special interest locally. The Coldwater State Police Post, like many around the state, is understaffed. The Governor said today plans for two new trooper schools are in the works and hopefully will graduate 180 troopers over the next few months.
The Governor said Michigan must attack crime through a comprehensive system of "smart justice" that recognizes the connection between enforcement, prevention and economic opportunity. Groups like the Branch County Coalition against Domestic Violence can be encouraged with Snyder's directives he announced today. He will issue an executive order designating the Michigan Domestic Violence Treatment and Prevention Board as the Michigan Domestic Violence and Sexual Assault Prevention and Treatment Board.
In addition, the current board is working with law enforcement and health professionals to update Michigan's sexual assault evidence kit for the first time in over 20 years. The Governor also wants funding to update sexual assault kits.
And there was also word on other funding already in the pipeline with a federal grant to work with a number of prosecutors in a number of communities to help with education on sexual assault and domestic violence.
The governor's broader plan, in another area, also calls for programs to insure that Michigan's firefighters and first responders are fully prepared for their critical public safety duties.