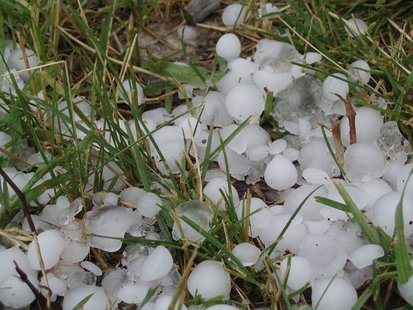 COLDWATER, MI (WTVB) - Hail measured at between a half-inch and an inch in size fell in parts of Branch County early last evening right before and during the time a severe thunderstorm warning was issued for the county at around 7:30 p.m.
Meanwhile, the clean up continues today from the severe weather which hit southeast Michigan yesterday afternoon. The late winter storms produced large hail, caused widespread flooding and spawned at least three tornadoes.
The Washtenaw County community of Dexter was hard hit, as a tornado damaged dozens of homes and businesses, but officials say they've had no reports of injuries. Tornadoes were also confirmed to have touched down in Monroe and Lapeer counties, damaging homes, trees and power lines.
Just yesterday morning, Branch County Emergency Management Coordinator Tim Miner briefed the County Board of Commissioners Sheriff's and Public Safety Committee on severe weather preparations on-going in the county.
Miner said at a seminar he attended earlier this month, meteorologists at the National Weather Service North Webster, Indiana office, which is the center for radar coverage for our area, revealed that while many believe a tornado is the most deadly threat we should be aware of, it's not.
In the North Webster warning area, more people die from flood related problems, that from twisters or straight line wind events.