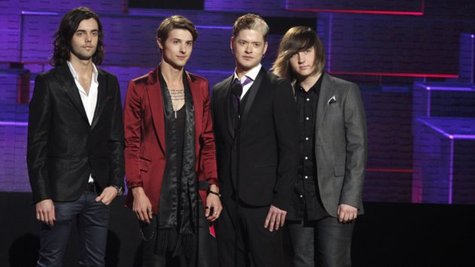 Bad girlfriend? No problem for the guys of Hot Chelle Rae . On Friday, the band released their new video "Honestly," and it shows the guys demonstrating how to drop a clingy ex without breaking a sweat.
"Honestly" opens with the guys hanging out at rehearsal playing video games until lead singer Ryan Follese 's girlfriend interrupts for some one-on-one quality time. When she doesn't get it, she loses it, clothes go out the window, a car gets keyed. She even brings a new beau to a party the guys attend. But, honestly, who cares? Clearly not Ryan.
Already over the drama, Ryan shrugs off the girl's bad behavior and chooses instead to focus on partying, even vowing to take pictures of himself making out "with all (her) dumb friends" and then tag her in the photos on Facebook, so she can't avoid them.
The release of the "Honestly" video coincides with the March 24 relaunch of HCR's Beautiful Freaks tour -- the band had taken a break to serve as the opening act on the recently-wrapped Australian leg of Taylor Swift 's Speak Now tour.
Copyright 2012 ABC News Radio