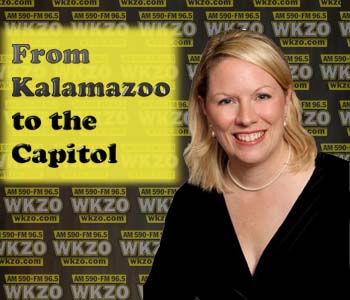 by: State Representative Maragret O'Brien
Report from Lansing: week of March 26, 2012
This week was another busy week. There was a lot of activity both in Kalamazoo County and at the state capitol in Lansing.
This week, I read to a number of elementary classrooms. March is Reading Month, and I enjoy taking this time to introduce fun government books to elementary students. Typically I read House Mouse, Senate Mouse and So You Want To Be President. These are favorites of the kids. As an avid reader, this is a highlight for me.
Agriculture
In Lansing, we were busy on working on legislation to keep Michigan moving forward. I testified in the Agricultural Committee about a resolution that I sponsored that opposes the proposed closing of the Farm Service Agency office in Kalamazoo County by the United States Department of Agriculture (USDA). This is the only Farm Service Agency office being proposed for closure in Michigan. Our community has actually seen an increase in farming over the last decade. Kalamazoo County leads the state in a number of areas including greenhouse and floriculture. Additionally, Kalamazoo County has a wide diversity of agricultural products. With Southwest Michigan being a major player in Michigan's agriculture, closing this office in the largest county makes no sense. Agriculture has been a bright spot for Michigan during the last decade, and it is my privilege to support continued investment and efforts.
Education
Today (Wednesday), House Bill 5392 passed out of Education Committee, where I serve as a member. I sponsored this bill based on input and feedback from many traditional schools around the state. Currently, traditional schools have barriers in front of them when providing cyber (or virtual) and hybrid (combined on site and cyber) education. I worked with the educational community to remove the handcuffs hindering innovation in our traditional schools. The bill would allow schools to expand their programs without having to see a waiver from the state as long as they complied with all criteria as set forth in the pupil auditing manuals. It would also allow for waivers to be automatically renewed annually if they comply with those same standards. The State Superintendent would have the authority to revoke waivers of schools not in compliance. The legislation would make law the rules that have been in place but would also allow expansion of these great programs. I learned about this particular challenge when I toured Bangor's Cyber/Hybrid program with State Rep. Aric Nesbitt. The folks down there have been working hard with alternative education students and students seeking credit recovery. Bangor was unable to expand their successful program due to problems with the waiver process. Unfortunately, many other schools were in the same situation. This legislation will provide great relief.
Transparency
On Thursday, the House amended House Bill 5359. The bill as introduced limited companies and individuals who were eligible to bid on government contracts if they had made any political contributions to current state elected officials. I voted yes to amend the bill to include union political contributions in this calculation as well so we could ensure all entities would be treated the same whether the gift was made by a business owner, management or employee. The bill is currently on 2nd reading.
In previous bills, I have also supported transparency in the process. In February, I voted to ensure that all meetings subject to Open Meetings Act must be held with the elected officials present rather than being allowed to call or skype in. (HB 5335) There had been meetings held and votes taken with elected officials not being present, and the audience left looking at a speaker phone. This legislation mandates that a quorum can only be attained through members physically present, and votes can only be taken by those physically present. I continue to support efforts to bring more transparency to the process.
These are just some of the issues that came up during my week serving the 61st District. If you have any questions, please contact me at www.repmargaretobrien.com or toll free at 877-347-8061. Enjoy the weekend!