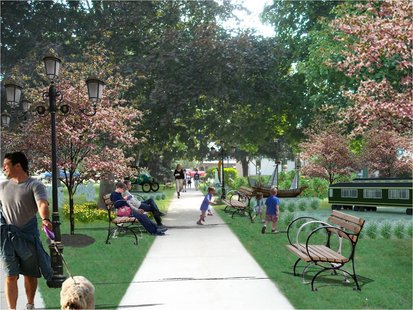 COLDWATER, MI (WTVB) - About 3 dozen people turned out last night for the unveiling of redesign proposals for the Four Corners Park in Downtown Coldwater. The lead author of the Michigan State University Small Town Design Initiative study Warren Rauhe said the park has tremendous potential going forward.
The northeast corner will keep its war memorials theme, highlighting remembrance, reverence, and paying honor. The southeast corner where the district library is located is expected to focus on a general relaxation and study area. The southwest quadrant is dedicated to community activities and then the northwest corner, the theme is history as well as space for children to link them to the past but with a play area.
Coldwater Downtown Development Authority Director Christine Bowman thought it was a good turnout for the session and she liked the design ideas especially in that they allowed for keeping the original design layout since it was platted that way and can still spotlight the historical aspects of the parks.
A final report from MSU study group incorporating last night's public input is expected at the end of this month and then a committee of city officials and community members will look at possible short term park projects as well as long term objectives that might reveal cost estimates and fund raising needs as well as opportunities for grants.