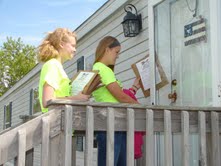 QUINCY, MI (WTVB) - Quincy High School's annual Spring Fling Community service day is right around the corner. It's happening the day after tomorrow and in case of wet weather, the rain date is a week from Friday. As in the past, students will be performing various community service projects including sprucing up the town park, and working at the hospital, Humane Society, and Tip Up Island, just to name a few.
There's also the school-wide and community wide food drive. They gathered over two tons of food last spring and have a goal of collecting at least 4,251 pounds this year. They've put Meijer paper bags in the doors of houses inQuincyand will be coming around Friday between 8 and 11:30 a.m. to pick up the bags.
In the afternoon the Student Council is holding a "Spring Fling Swing" fund raiser in which kids can pay $2 and take a swing at a donated car with a sledge hammer. They are also holding a talent show.