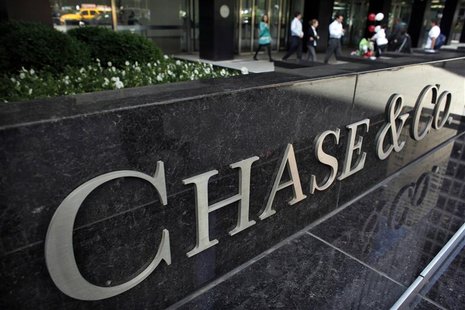 (Reuters) - The unit at the center of JPMorgan Chase & Co's recently revealed $2 billion trading loss has built up more than $100 billion in positions in asset-backed securities and structured products, the Financial Times said on Thursday.
The newspaper said this portfolio comprises the "complex, risky bonds at the centre of the financial crisis in 2008", but did not say whether any of the holdings are in unhedged positions.
It said the portfolio is separate from holdings in credit derivatives that led to the trading loss by JPMorgan's chief investment office, which has sparked much criticism of the largest U.S. bank and its chief executive, Jamie Dimon.
JPMorgan spokeswoman Kristin Lemkau declined immediate comment.
The chief investment office has been the biggest buyer of European mortgage-backed bonds and other complex debt securities such as collateralized loan obligations in all markets for three years, the newspaper said, citing more than a dozen senior traders and credit experts.
That office's "non-vanilla" portfolio has grown to more than $150 billion, the newspaper said, without citing sources or providing details of the holdings.
Earlier Thursday, JPMorgan said Dimon had agreed to testify before the Senate Banking Committee to discuss the trading loss. The testimony would follow hearings on implementing Wall Street reforms that are expected to end on June 6.
JPMorgan shares closed Thursday down $1.53, or 4.3 percent, at $33.93 on Thursday. Shares of the New York-based bank have fallen 16.7 percent in the five trading days since the loss was revealed.
(Reporting by Jonathan Stempel in New York; Editing by Joseph Radford)