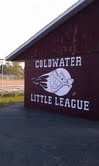 COLDWATER, MI (WTVB) - There were no injuries last night in an electrical fire that damaged the Coldwater Little League concession stand and club house building. The Coldwater Fire Department quickly responded to the blaze after the alarm from the site off Western Avenue was called in shortly before 9 p.m.
The flames were quickly extinguished but some minor building repairs will be needed along with a lot of clean up. Coldwater Little League officials say their season is in full swing and they're asking for the community's quick help to keep the operation fully functional.
They add that one way to help pay for the repairs is to purchase a $5.00 Chevy Youth Baseball raffle ticket. That fundraiser, sponsored by Royal Chevrolet, gives Coldwater Little League the entire $5.00 with the ticket purchaser a chance to win a new car. The cleanup at the Coldwater Little League Complex will get underway this morning.