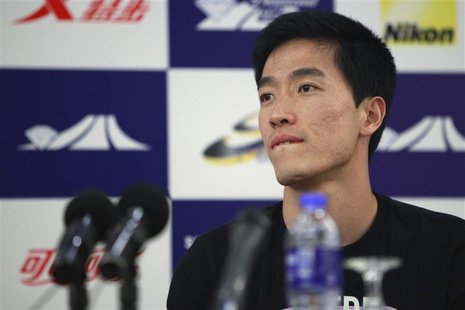 By Nick Mulvenney
SHANHGAI (Reuters) - High hurdler Liu Xiang takes centre stage in his home town of Shanghai on Saturday, ready once again to assume the burden of China's heavy Olympic expectations.
The former Olympic and world champion will compete in a quality 110 meters field at the Diamond League meeting as he continues preparations for his bid to regain the Olympic title he won in Athens in 2004 but relinquished after a heart-breaking injury in Beijing four years later.
Reigning Olympic champion and world record holder Dayron Robles of Cuba is absent but the American trio of world champion Jason Richardson, world indoor champion Aries Merritt and David Oliver should make for a tight contest.
"I think all the Americans are very competitive and I think the competition tomorrow will be very fierce," Liu told a news conference on Friday.
"What I want is that I can match my performances during training so I can be satisfied with myself."
Liu ran 13.09 seconds earlier this month in Japan, the second best time of the year behind Merritt's 13.02 and the best of those expected to contend for medals in London.
Richardson, who was handed the title when Robles was disqualified for bumping Liu at the world championships in Daegu last year, admitted he faced a tough task taking on the Chinese on home soil.
"It's an uphill battle for me but I do enjoy swimming upstream and I will just go out there and enjoy myself, no pressure," said Richardson.
Light rain is forecast for the meeting but Richardson maintained that it would not bother him as he looked to ruin the evening for the hosts.
"My first tactic will be to run as fast as I can, I will be dodging raindrops, they will not hit me and hopefully I will win," he said.
POWELL BID
Jamaican Asafa Powell also returns to Shanghai looking for another sub-10 second mark - he has done it more than anybody else in history - and to make amends for losing to American Justin Gatlin in Doha last week.
"Doha was the first race, just shaking off the cobwebs," Powell, who won comfortably in 9.95 seconds in Shanghai last year, told reporters.
"I'm very excited about this weekend. I went back home, did some training, corrected a few things, so I'm excited to see how I go tomorrow."
Ethiopian Kenenisa Bekele, whose 5,000-10,000 meters double gold was one of the track highlights of the Beijing Olympics, is another athlete who had a disappointing evening in Doha when he finished seventh in the 3,000m.
Targeting the defense of both titles in London, Bekele is running the 5,000m in Shanghai against a field made up entirely of East Africans as he prepares for his race against Briton Mo Farah in Eugene, Oregon next month.
In an athletics meet packed with world and Olympic champions, other highlights are expected to come when Jamaica's Veronica Campbell-Brown faces American Carmelita Jeter in the 200 meters in a battle of the women's sprint world champions.
Australia's pole vault Olympic champion Steve Hooker has had to battle injury problems but, having qualified for London in Perth last Friday, is looking to show continued improvement.
"I'm think I'm building well towards the London Olympics," he said. "There's still a long way to go to be a medal contender but I think everything's headed in that direction."
(Editing by Alastair Himmer)