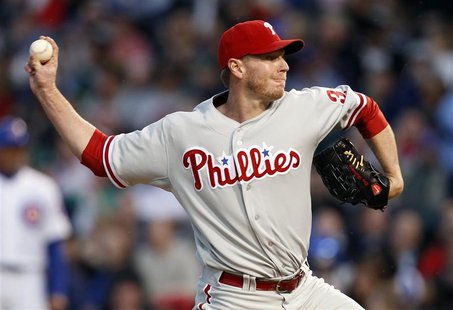 (Reuters) - Two-time Cy Young Award winner Roy Halladay finally got some run support from his Philadelphia team mates and won for the first time in more than a month on Thursday as the Phillies eked an 8-7 victory over the Chicago Cubs.
The host Cubs made for a tense ending as they scored four runs in the ninth inning and had the tying run on base after Halladay had left the game.
"It got a little testy, didn't it?" Phillies manager Charlie Manuel told reporters after the win.
Halladay (4-3) had performed well in his last two outings but the Phillies had failed to back him up with the runs needed for a win.
This time Philadelphia pounded out 14 total hits and scored four runs in the first two innings to top the .500 mark with their fifth consecutive win.
Halladay, whose last win came on April 16, worked eight innings, yielding seven hits and three runs while striking out four and walking none.
He called the team win to go above .500 more important than ending his own skid.
"Sometimes when you start thinking about it too much it's hard to put together a run like that, so to get it out of the way and hopefully get ourselves to where we aren't worrying about it will be good," he said.
The Phillies had gone 0-6 in their previous attempts to climb over .500.
Halladay had an 8-3 lead when he left after eight innings, but the Cubs, who have a losing record at home, came closing to erasing all of that.
They pulled within 8-6 on Welington Castillo's three-run two-out double off Phillies reliever Jake Diekman and got another run on Darwin Barney's run-scoring single before Jonathan Paplebon came on to end the game when Reed Johnson grounded out.
Cubs starter Chris Volstad suffered his sixth consecutive loss of the season. He has now gone 19 consecutive starts without a victory.
(Reporting By Gene Cherry in Raleigh North Carolina; Editing by Alastair Himmer/Greg Stutchbury)