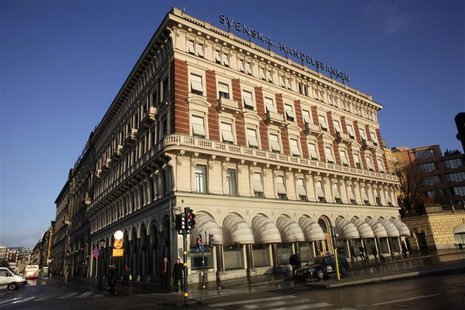 By Mia Shanley and Balazs Koranyi
STOCKHOLM/OSLO (Reuters) - Three of the Nordic region's biggest banks had their credit ratings cut by Moody's Investor Service on Friday due partly to the euro zone crisis, but the downgrades were relatively mild and showed the banks remain some of the strongest in Europe.
Moody's cited their reliance on market funding, tough competition for retail loans and exposure to the spreading eurozone debt crisis.
The downgrades could raise the banks' borrowing costs, although analysts believe they will continue to outperform European rivals thanks to their strong capitalization and relatively safe loan exposures.
"The outcome was clearly better than expected," Exane BNP Paribas Andreas Hakansson said in a note. "This leaves Swedish banks at a very strong comparable level, with Nordea and SHB probably being some of the very few double AA rated banks. This supports our view that Sweden is attractive."
Moody's had warned in February it could cut the ratings of more than 100 European financial firms, but its treatment of the Nordic banks was relatively gentle after more dramatic cuts for Italian and Spanish banks.
The agency cut the debt and deposit ratings on Sweden's Nordea and Handelsbanken one notch to Aa3. Norwegian group DNB was cut by one notch to A1/C- due to its reliance on market funding and exposure to volatile businesses, such as commercial real estate and shipping.
DNB, Norway's biggest bank, questioned the move, saying its access to funding was good and its shipping portfolio stable.
"We do not agree with their reasons, mainly those concerning our funding markets; we believe we have good access to all markets, Europe, USA, Japan and Australia for that matter," spokesman Thomas Midteide said.
DNB, one of the largest lenders to the global shipping sector, wrote down just 195 million crowns related to the industry in the first quarter, a relatively small number despite a slump in that business that has hit a lot of big shippers.
CAPITAL BUFFERS
Nordic banks have some of Europe's highest capital levels and have enjoyed steady access to funding, backed by economic growth and strong fiscal positions in both Sweden and Norway.
But the spillover from the euro zone crisis has triggered a wave of downgrades for a number of countries and banks, including the Italian and Spanish moves.
"We recognize Sweden's economy does have links to the euro zone, and if there is a slowdown, it will affect the economy and it will affect asset quality," Simon Harris, a managing director at Moody's, told Reuters.
Norway is also not immune to eurozone problems, he said.
Harris called the Moody's downgrades "very modest". The Nordea and Handelsbanken ratings remained at the high end of western European banks.
The agency had earlier flagged a one notch cut for Nordea and a two notch downgrade for Handelsbanken. DNB's downgrade was also better than an expected two-notch downgrade.
Daiwa Capital Markets said in a note that Moody's "played gently" with Scandinavian bank ratings, making relatively mild cuts compared with Italy and Spain. Swedish bank shares all traded higher at 1022 GMT, outperforming the broader Stockholm bourse <.OMXS30>. DNB shares were also up 0.7 percent.
The ratings for Swedbank and SEB , both of which hold lower ratings than their two larger Swedish peers, were unchanged, though both had been flagged for one notch cuts.
Moody's noted that Swedish banks were in a stronger position overall to handle the credit risks spawned by the crisis.
Sweden's Finance Minister Anders Borg said the country's banking system was sound but the banks should take heed of the signal from Moody's.
Moody's highlighted the Nordic banks' reliance on wholesale funding, modest profitability due to price competition for retail loans and the export-orientated economy's exposure to problems in Europe.
The asset risks also stemmed from the banks' large, mostly variable-rate mortgage books would be vulnerable to a credit deterioration if interest rates rise.
Nordea said Moody's decision would likely have only a marginal impact on funding costs and said it remained one of the strongest banks in Europe. Handelsbanken said investors remained comfortable with the bank.
"No bank in the Nordic region has a higher rating than Handelsbanken. No funding is cheaper in Europe than Handelsbanken's," said spokesman Bengt Carlsson.
SEB also said it has one of the strongest balance sheets and is active in the most stable markets in Europe, saying its clients were well-prepared for the uncertain economic climate.
(Additional reporting by Niklas Pollard and Sven Nordenstam in Stockholm, Ole Petter Skonnord in Oslo and Simon Jessop in London; Editing by Alistair Scrutton and Louise Heavens and Jane Merriman)