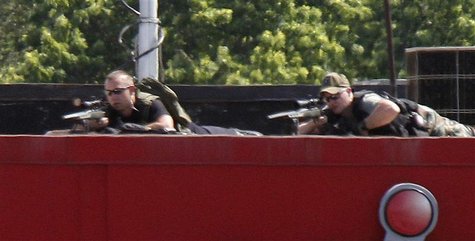 (Reuters) - A Texas gunman who held hostages in an eight-hour standoff with police in an Indiana real estate office suffered three gunshot wounds, including two to the head, a coroner said on Saturday.
Police have said he shot himself twice in the head after the standoff on Friday in Valparaiso, about 40 miles southeast of Chicago.
Porter County Coroner Chuck Harris said Roy Ferguson, 48, sustained gunshot wounds below his chin and to his right temple and a third wound to the right upper part of his torso.
Harris said the wounds were established in a preliminary examination of Ferguson. A full autopsy likely would not be completed until after the Memorial Day weekend.
"We are pretty sure we know what happened, but I am not going to make any determination until after the autopsy," Harris said.
The standoff between Ferguson and the police ended at about 4:30 p.m. on Friday. He was pronounced dead at a hospital two hours later.
Police said the gunman went to the office in a dispute over money with someone who turned out not to be there. He had been to the office previously.
The first officers at the scene exchanged fire with the gunman around the entrance of the building. Dozens of officers then surrounded the building while the FBI negotiated with him, police said.
A woman initially left the building with a head injury caused by Ferguson. But it was unclear whether she was a hostage or someone fleeing the building.
The wound was not caused by a gunshot, and she was treated and released from a hospital, police said.
All the hostages were released by Ferguson unharmed. Later in the afternoon, officers heard a gunshot inside the building. They entered and found he had shot himself twice, police said.
(Reporting by David Bailey; Editing by Xavier Briand)