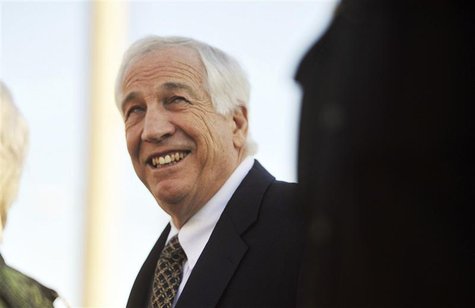 (Reuters) - Pennsylvania State University's former president filed suit on Friday to force the school to turn over emails that are relevant to its probe of the Jerry Sandusky sex abuse scandal, the Centre Daily Times newspaper reported.
Sandusky, a former Penn State assistant football coach, goes on trial next month on charges he molested 10 boys over a period of 15 years. Trustees fired President Graham Spanier and head football coach Joe Paterno in November 2011 over the scandal.
The requested emails would let Spanier "refresh his recollection significantly and allow him to assist the university fully in its investigation," the newspaper quoted the suit filed in Pennsylvania's Centre County Court as saying.
University trustees hired former FBI Director Louis Freeh to investigate the university's handling of the Sandusky sex abuse scandal. That report is expected in the fall.
The emails in question apparently only recently surfaced, according to a letter from an attorney that is part of the Freeh team.
Spanier's attorneys, Vaira & Riley in Philadelphia, wrote in the filing that they had asked the university to turn over emails from 1998 to 2004, but Penn State was refusing, the newspaper said in its online edition.
The emails are needed "especially when dealing with events which may have occurred over 10 years ago, and, in Dr. Spanier's case, well over 10,000 emails ago and thousands of meetings ago," the daily quoted the filing as saying.
In a letter dated April 20, 2012, an attorney who is part of the Freeh team told Spanier's attorneys that they would not be given access to the requested documents.
Vaira & Riley were not immediately available to comment. A spokesman for the university was not immediately available to comment.
(Reporting By Ian Simpson; Editing by Eric Beech)