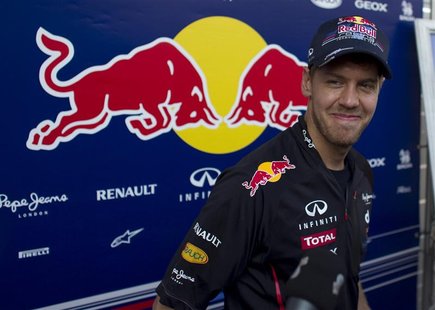 By Alan Baldwin
ABU DHABI (Reuters) - Red Bull can join Formula One's grandees by clinching a third successive Formula One constructors' title in Abu Dhabi on Sunday, principal Christian Horner said on Thursday.
The champions, who have Sebastian Vettel also heading for a third drivers' title in a row, are 91 points clear of Ferrari and 101 ahead of McLaren with two races and 86 points to be won after Yas Marina.
There are many permutations but, after winning the last four races, Red Bull are poised to join Ferrari, McLaren and Williams as only the fourth team to chalk up three constructors' championships in a row.
"If we achieve a triple championship, it's something that would be far and away above our biggest achievement," Horner told reporters.
"There's very few teams that have won three constructors' in succession and if we manage to achieve that across different regulations, across different tire suppliers, it would be a remarkable achievement."
Vettel, 16 points clear of Ferrari's Fernando Alonso, cannot wrap up the drivers' title in Abu Dhabi but he can take a big stride towards it.
History is on his side, with Vettel having won the last four races in a row. No driver has ever done that in a single season and not won the title, something Horner was reminded of on Thursday.
"Let's hope we don't change history," he smiled.
TEAM PLAYER
This year has been more close-fought than 2011, when Red Bull arrived in Abu Dhabi with both titles won, but less so than 2010 when Vettel snatched his first crown from under Alonso's nose right at the finish in what was then the season-ender.
"As a team, we have worked better than ever," said Horner, who said Red Bull would do nothing different this weekend.
What clearly has changed is the role to be played by Australian Mark Webber, who is now 73 points behind his team mate and could well be mathematically out of the title chase by Sunday night.
Horner said at the last race in India that the team would not invoke so-called 'team orders' but he subtly changed his tone on Thursday.
"Mark is a strong competitor and he's a big team player, I'm quite convinced that he will want to see the team achieve its best possible results," he said.
"I'm sure, as a team player, if required, he would do everything to support the team.
"Mathematically now it's very difficult for him to win the championship and he's a smart guy...I've got every confidence that he will be doing his best to help the team achieve its objectives," added Horner.
Vettel confessed he had not realized until after he had left the Indian Grand Prix circuit after his victory last Sunday just how close the team were to winning the constructors' crown.
Webber, in his straight-talking Aussie fashion, had enlightened him.
"I didn't know until Mark told me on the way back from India, we just spoke very shortly about the constructors because we were both on the same plane and Mark said 'It would be quite bad for the constructors' if this plane went down.'
"So yeah. Obviously it would be very special for us to win the championship here but in order to do so we have to have a strong weekend and score more points than the others."
The 'Red Bull champions 2012' T-shirts are sure to be ready for the chequered flag even if Horner denied - just as he did last year and the year before - that anything had been pre-prepared.
(Reporting by Alan Baldwin, editing by Josh Reich)