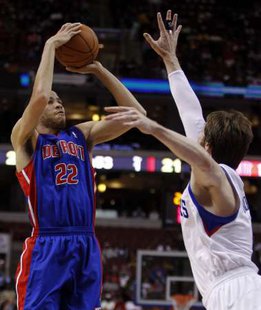 The Pistons are no longer winless and it wasn't even close.Detroitlast night beat the 76'ers 94-to-76 atPhiladelphiafor their first victory in 9 games. The Pistons on Monday set a franchise record for the worst start to a season when they fell by two points to the Thunder at the Palace. Leading Detroit last night was Greg Monroe with 19 points and 18 rebounds while Kyle Singler scored a career-high 16 points in his first NBA start for the Pistons
Tayshaun Prince had 15 points forDetroitwhile Jason Maxiell added a dozen boards to go along with his 8 points.
Tomorrow night, it's Detroit vs.Orlandoat the Palace.