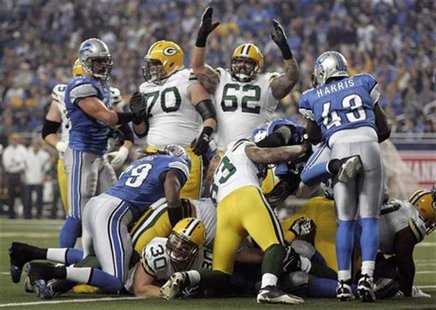 The Detroit Lions are on the brink of elimination from a chance to make the playoffs after losing 24-to-20 to the Packers yesterday at Ford Field. The defeat dropped Detroit to 4-and-6, including 0-and-4 in the NFC North.Green Bayhas won 5 in a row and pulled to within a half game of the division leading Chicago Bears, who play tonight at San Francisco.
The Lions led 20-to-14 late in the game before the Packers went ahead when Aaron Rogers connected with Randall Cobb on a 22 yard touchdown pass with 1:55 left in the fourth quarter and then added a field goal for the final margin of victory.
It was a day of struggles for Detroit quarterback Matthew Stafford, who was often off target on his passes and ended up with two interceptions and a fumble
The Lions now have a short week to prepare for the 8-and-1 Houston Texans, who will be at Ford Field Thursday for Detroit's annual Thanksgiving Day game.
Yesterday's action in the NFL concluded with Baltimore's 13-to-10 win last night at Pittsburgh.
.