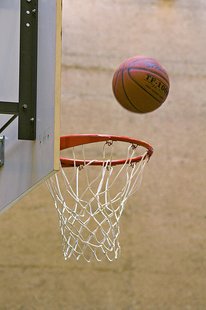 Michigan State last night suffered through a key injury and poor free throw shooting but managed to pull out a 74-to-70 win at home over Boise State. Keith Appling led the Spartans with 22 points, seven assists, 5 rebounds and 3 steals, helping M-S-U improve to 3-and-1. Just 30 seconds into the contest, Michigan State freshman point guard Gary Harris, who was averaging a team-high 16 points a game, jammed his left shoulder when he was hit hard on a moving screen and had to leave the court. Harris will have an MRI exam today and is expected to be out of the lineup for at least 2 weeks, maybe longer. Michigan State Coach Tom Izzo said he encouraged Appling to take charge in the late going when the game was in doubt
The Spartan's next game is Friday at the Breslin Center against Oakland University.
Tonight's schedule includes fourth-ranked Michigan taking on Pittsburgh in the semi-finals of the NIT Season Tip-Off at Madison Square Garden. The nation's number-one ranked team, Indiana, improved to 5-and-0 last night but the Hoosiers had to go into overtime to beat Georgetown 82-to-72.