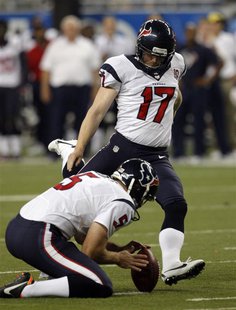 The Lions slim to none chances of making the playoffs for the second straight year realistically slid to zero with their record slipping to 4-and-7 while the Texans improved their best in the league mark to 10-and-1. Detroit, which has a nine game Turkey Day losing streak, is off now until a week from Sunday when it has home game against Indianapolis .In a lot of ways, the Lions follow the lead set by their head coach Jim Schwartz and it's why Detroit needs a miracle and then some to make the playoffs for the second straight year. And make it nine years in-a-row that the Lions have lost their annual Thanksgiving Day game as the Houston Texans escaped with a 34-to-31 overtime victory yesterday at Ford Field.
Shayne Graham kicked a 32-yard field goal with 2:21 left in the extra period to improve the Texan's NFL-best record to 10-and-1 while Detroit dipped to 4-and-7. The game will most be remembered for Houston's gift touchdown run midway through the third quarter after the Lions had extended their lead to 24—to-14.
Replays showed that the left knee and elbow of Texas running back Justin Forsett hit the turf near midfield while being tackled by Detroit but Forsett's 81-yard scamper to the end zone was ruled a touchdown. Lion's coach Jim Schwartz then tossed his challenge flag and right away he wanted it back. All scoring plays in the NFL are automatically reviewed but scoring plays also can't be challenged. With Schwartz issuing a challenge, the review wasn't allowed, the score stood and Schwartz also received an unsportsmanlike conduct penalty to boot.
After the game, schwartz wanted to boot himself for his mistake, which shifted the momentum in favor of the texans and the lions were on their
Way to another loss.
The bad taste of Thursday's Turkey Day loss for the Lions will stay with them for awhile with their next game coming up a week from Sunday at home against Indianapolis.
In the two other NFL contests yesterday, the visiting teams also won as the Redskins beat the Cowboys 38-to-31 and the Patriots blew out the Jets 49-to-19.