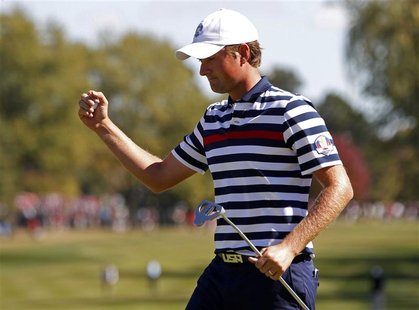 By Steve Keating
MEDINAH, Illinois (Reuters) - Three of the four American rookies who seized the Ryder Cup spotlight with their fearless play slipped into the shadows during the decisive singles on Sunday, as Europe claimed a shock victory.
Webb Simpson, Brandt Snedeker and Keegan Bradley became instant Ryder Cup darlings with their dazzling debut in the opening foursomes and fourballs on Friday but were mostly invisible on Sunday as Europe stormed back from a 10-6 deficit to take the trophy.
The first-timers, who had formed the backbone of the American's 5-3 first day lead and made significant contributions on day two, failed to deliver in the last day pressure cooker with Jason Dufner the only rookie to record a win beating Sweden's Peter Hanson two up.
"It's hard not to get up in front of these fans with so much at stake in the singles," Dufner told reporters. "I made a couple of nice putts there that kind of got me fired up a little bit.
"Excited to get that point for the team."
Bradley had led the American Ryder Cup team, forming an electrifying partnership with Phil Mickelson that generated three points from three matches but on their own both came up short on Sunday.
Bradley absorbed his first Ryder Cup loss falling 2&1 to world number one Rory McIlroy while Mickelson lost one down to Justin Rose in his 38th Ryder Cup match, the most by an American in the biennial competition.
Before the Europeans had popped the corks on their champagne, the post-mortem on the 14-1/2 to 13-1/2 loss had begun with Love being quizzed about his move to sit down the red-hot Bradley and Mickelson from Saturday's fourball that may have cost his team a valuable point.
"In hindsight, we would have done a lot of things differently, I guess," said Love. "These guys asked to do certain things during the week and there are some guys that didn't want to sit out; but guys that felt like they needed to rest, we let them rest.
"I'm going to second guess myself for a long time. Could have done a lot of things differently."
One thing Love will not regret is having four rookies on his squad, Bradley (3-1-0), Dufner (3-1-0), Simpson (2-2-0) and Snedeker (1-2-0) combining to contribute nine points to the U.S. cause.
In fact it was the senior members of the team who failed to hold up their end, Jim Furyk (1-2-0), Steve Stricker (0-4-0) and Tiger Woods (0-3-1) managing just one-and-a-half points between them.
"I tried to remind the guys a little bit yesterday, even after the third session, that the tournament was not even halfway over yet point wise," said Love. "We had a long way to go.
"We tried to not focus on results but we talked about it a little bit last night; that all we could do was just go out, play one match at a time, everybody go out and have fun, try to win their point.
"I'm sure there's a lot of great plans in a lot of sporting events that sound really good the night before, before the game starts, and then there's a fumble or a turnover or something happens and it doesn't work.
"What didn't work today is they played a little bit better than us and got some momentum and made it tough."
(Editing by Patrick Johnston)