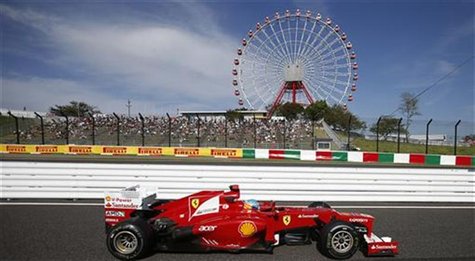 By Alan Baldwin
SUZUKA, Japan (Reuters) - Ferrari plan to shut down and recalibrate their ageing Formula One wind tunnel after blaming it for a series of failed updates this season.
Team principal Stefano Domenicali said they had found some of the aerodynamic developments produced to keep championship leader Fernando Alonso's car competitive had worked in the tunnel but not on the track.
He told a news conference at the Japanese Grand Prix that the team would decide in the next few weeks how to proceed and how long it would take to revamp a tunnel that was "not obsolete but not really up to the speed of the new technologies that are available on the market".
Ferrari have been using Toyota's wind tunnel in Cologne as well as the one at the Maranello factory in Italy.
Alonso has won three races this season and is 29 points clear of Red Bull's double champion Sebastian Vettel in the standings with six races remaining.
Brazilian team mate Felipe Massa has scored just 51 points to the Spaniard's 194 and Ferrari are third in the constructors' standings.
Ferrari made a slow start to the season, with their 'ugly' step-nosed car some 1.5 seconds off the pace of their rivals in qualifying.
The Italian team, who are busy developing next year's car, also struggled in the first past of last season after track performance again failed to match data emerging from the wind tunnel.
(Reporting by Alan Baldwin, editing by John Mehaffey)