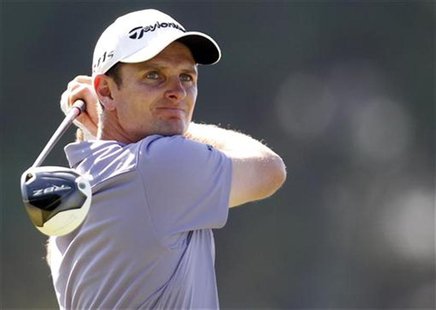 SHANGHAI (Reuters) - Justin Rose knows he needs to win one of two events over the next fortnight in China to have a chance of denying world number one Rory McIlroy his first Race to Dubai title.
Rose arrived in Shanghai for this week's BMW Masters trailing McIlroy by 437,334 euros ($567,000) and with six official events remaining on the season schedule.
The Englishman, ranked world number five, can move ahead of McIlroy in the Race if he comes first or second and the Northern Irishman finishes outside the top seven in the elite 78-player tournament being staged on the Lake Malaren course.
"Rory is playing a lot of European Tour golf through to the run-up to Dubai, so I am going to have to play well and figure I'm going to have to win one of these next two weeks to give myself a really good chance in Dubai," Rose told reporters.
McIlroy and Rose will contest next week's WGC-HSBC Champions event at Mission Hills in Shenzhen but the world number one could then pull clear because he has also entered the Singapore Open and a week later will defend his Hong Kong Open title.
Double major winner McIlroy will then not meet Rose again until the November 22 season-ending Dubai World Championship.
But after a PGA Tour season in which Rose won the WGC-Cadillac Championship, was third behind McIlroy in the PGA Championship and runner-up in the Tour Championship, the 32-year old is much more confident of claiming a second European No. 1 title in six years.
MIRACULOUS YEAR
"When I won the Order of Merit in 2007 it kind of felt like it happened out of the blue that season," said Rose.
"But I now feel like if it happened again this season, it would come from a different place.
"It would come from what has been a bit of a miraculous year, and a year when I seemed to play well in the right tournaments.
"So for it to happen this year, it would be a lot more meaningful based upon there's been a lot of hard work that's gone on between 2007 and now.
"I am a lot more aware of why I'm playing well, and a lot more sustainable into the future.
"And to be Number One of any tour around the world, especially the European Tour, that's a huge goal and that would be a huge honor to be honest.
"So it's got my attention for these next few events."
Adding to Rose's goal were his efforts in last month's Ryder Cup where he won three of five points including the defeat of the highly fancied Phil Mickelson in the singles.
FEELING POSITIVE
"I'm still on a high from the Ryder Cup as I went to Turkey and won straightaway," Rose added to reporters.
"So I'm hoping not to come down from that high just yet.
"I'm still feeling positive about everything.
"For some guys you can come back to real life and real tournaments and, when you're not in contention, the thrill of that week seems a million miles away from what you might be experiencing on the golf course if you are running 30th, 40th in the field.
"For me I'm lucky I was able to get into contention the very next tournament I played and I feed off all those positive memories of the Ryder Cup and put myself in position in Turkey.
"So while it is very important not to be in the past when you're playing each individual tournament, you have got to cherish those memories, because what happened for me personally at the Ryder Cup on that Sunday are stories for the grandkids."
Organizers have drawn Rose and McIlroy together for the opening round of this week's $7m event being staged on the Lake Malaren course in suburban Shanghai.
($1 = 0.7714 euros)
(Editing by Ken Ferris)