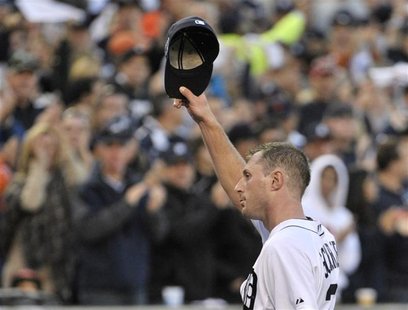 By Steve Keating
DETROIT (Reuters) - Detroit Tigers right-hander Max Scherzer does not know if he will face a do-or-die situation when he steps onto the mound to take on the San Francisco Giants in Game Four of the World Series on Sunday.
A loss in Game Three on Saturday and the Tigers could find themselves trying to claw out of 3-0 hole or with a win, Scherzer could climb onto the hill at Comerica Park trying to even the best-of-seven series at 2-2.
Either way, the hard-throwing right-hander will approach the game the same way as he pitches against the Giants' Matt Cain.
"This is the start of a lifetime to be able to pitch in the World Series," Scherzer told reporters. "Every game you pitch in the World Series is a must-win game, so what better opportunity than the one I have.
"I've got to give the team a chance to win tomorrow, so regardless of what the series is at, it's a must win game.
"We're trying to win the World Series. So if we're going to do that, I am going to need to pitch well."
As the Game Four starter, Scherzer is guaranteed only one appearance in the Fall Classic and plans to make the most of his opportunity.
While Scherzer had a no decision in a Game Four loss to the Oakland Athletics in the American League Division Series he sparkled in Game Four of the ALCS as the Tigers swept the New York Yankees to earn a World Series appearance.
In two postseason starts, the 28-year-old fireballer has a 1-0 record, allowing just one earned run with 18 strikeouts in 11 innings of work.
Scherzer, 16-7 during the regular season, has been Detroit's hottest pitcher down the stretch but will have to deal with cold conditions as the Fall Classic shifts from San Francisco to a chilly Motor City that could see snow on Monday if the Tigers can extend the Series to a Game Five.
"No one likes cold weather, but it is what it is, and we have a chance to play in the World Series, so who cares," said Scherzer. "I haven't worn sleeves the whole year fortunately, but that's going to change.
"I'm going back to all the tricks I did in college, numerous 40-degree games there. It'll be just a challenge just like what everybody has to do to battle this cold weather."
(Editing by Gene Cherry)