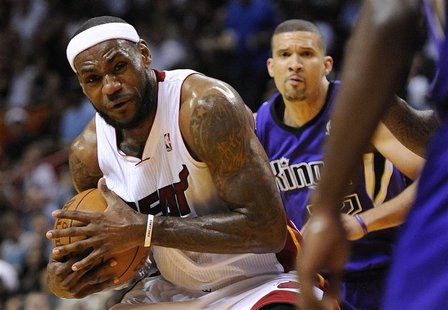 The Pistons open their season tonight at home against the Houston Rockets.Detroit's hopes for improvement over last year which ended with the team ten games out of the East's final playoff berth will start with third year center Greg Monroe, a star in the making who led the Pistons in scoring and rebounding last season.
Last night saw the league tip-off its 2012-13 regular season with three contests. LeBron James and the Miami Heat started their title defense with a 120-107 win over the Boston Celtics. Dwyane Wade had 29 points while James collected 26 with 10 rebounds for the Heat.
Ray Allen scored 19 points off the bench for Miami against his old Celtic teammates. InLos Angeles, the Dallas Mavericks defeated the new-look Lakers, 99-91. And inCleveland, the Cavaliers scored a 94-84 win over the Washington Wizards. Last year's Rookie of the Year Kyrie Irving led the way with 29 points. The NBA season rolls on tonight with nine more games.