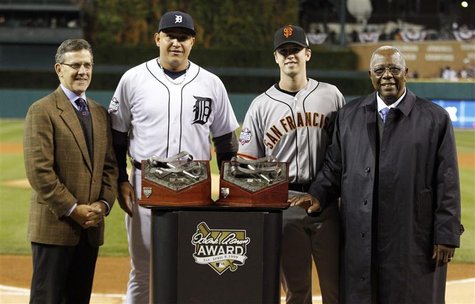 The Tigers let one slip away yesterday at Minnesota where the Twins scored a walk-off 3-to-2 victory over Detroit to even up their season opening set at a game apiece.
Phil Coke served up the winning 2-run double in the bottom of the ninth after picking up the save for the Tigers in their victory over the Twins on Monday. The double by Eduardo Escobar landed between Austin Jackson and Andy Dirks in what seemed to be some miscommunication between the two Detroit outfielders. Miguel Cabrera had a pair of RBI singles for the Tigers while former Twin Torii Hunter also had two more hits to go along with his two hits in the opener.
Anibal Sanchez tossed five innings of two-hit, shutout ball for Detroit. The Tigers will send Rick Porcello to the mound today in the rubber game of the series with the first pitch set for 1:10 this afternoon. Then it's back to Detroit and the Tiger's home opener tomorrow against the Yankees.
The White Sox are 2-and-0 after beating the Royals 5-to-2 Wednesday afternoon in Chicago while the Cubs are 1-and-1 after being shutout 3-to-0 last night at Pittsburgh.