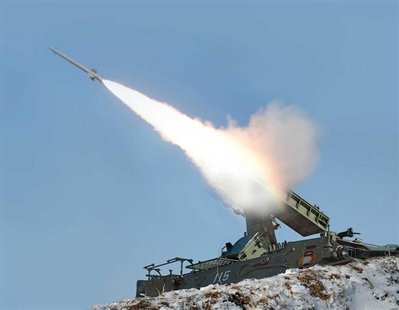 By David Alexander
WASHINGTON (Reuters) - A Pentagon spy agency concluded with "moderate confidence" that North Korea has the ability to launch nuclear-armed ballistic missiles but the weapons would probably be unreliable, officials said on Thursday
A study dated last month by the Defense Intelligence Agency appeared to be the first time the Pentagon spy agency had reached such a conclusion and illustrated the high stakes surrounding the escalating tensions on the Korean peninsula.
The assessment's conclusion was made public by Representative Doug Lamborn as he questioned senior Pentagon officials about North Korea's nuclear weapons program during a hearing of the House of Representatives Armed Services Committee.
"DIA assesses with moderate confidence the North currently has nuclear weapons capable of delivery by ballistic missiles, however the reliability will be low," Lamborn said, quoting from a DIA report entitled "Dynamic Threat Assessment 8099: North Korea Nuclear Weapons Program (March 2013)."
A U.S. official said later that the quotation cited by Lamborn was in a section of the study that had been erroneously marked unclassified. The official said Lamborn had done nothing wrong in releasing the statement but declined further comment on the study.
Lamborn said the agency reached the conclusion in a mostly classified March 2013 report. He did not say what range the nuclear-capable North Korean missiles might have.
Asked whether he agreed with the assessment, General Martin Dempsey, chairman of the U.S. Joint Chiefs of Staff, declined to comment, saying he had not seen the report.
Experts inside and outside the U.S. government disagree over the extent to which North Korea has been able to design and build a nuclear device which would be small enough to serve as a missile warhead.
Some believe the North Koreans are able to build a device which would fit aboard older-model missiles of intermediate range. Other experts question this assessment.
The strong consensus inside the U.S. government is that North Korea does not yet have a nuclear device that would fit longer-range missiles which conceivably could reach U.S. territories.
Defense Secretary Chuck Hagel, answering questions at the same hearing, said he did not believe Iran nor North Korea had the "capacity right now" to hit the United States with a long-range missile carrying either a nuclear or conventional warhead.
A senior defense official said on Thursday that Hagel was only referring to the ability to hit the continental United States.
U.S. officials believe North Korean missiles have the range to reach Guam, a U.S. territory in the Pacific, and the U.S. states of Hawaii and Alaska but not the mainland.
While North Korea has conducted underground nuclear tests, it is not clear whether it has been able to reduce the size of the device to the point where it could be mounted on a short- or long-range ballistic missile.
(Reporting By David Alexander; editing by Alistair Bell and Cynthia Osterman)