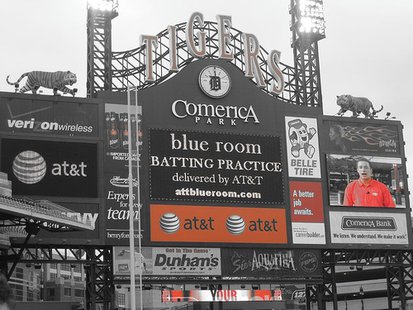 The Tigers went extra innings with the Royals yesterday afternoon and then in the tenth with the score tied 3-3, Detroit's bullpen was bashed extra hard with Kansas City putting up a 5 spot to win going away 8-to-3. It earned the Royals a split of the brief two game set and now the Tigers welcome to Motown the team with the best record in the majors as 15-and-6 Atlanta arrives for a 3-game series beginning tonight at Comerica Park.
Detroit ace Justin Verlander departed yesterday's game after 7-innings because of a blister on his throwing thumb and is listed as day-to-day. Verlander let the relievers take over, leaving them to protect a 3-to-2 lead. However, hard-throwing rookie Bruce Rondon gave up the tying run in his major league debut in the eighth and then in the tenth, Phil Coke issued a bases-loaded walk to put the Royals ahead and Alex Gordon capped the big inning with a grand slam off Darin Downs.
Coke took the loss to slip to 0-and-3 while the Tigers slide back to 10-and-10. Torii Hunter had two hits and an RBI for Detroit, which has lost five of its last six games.
The White Sox made it two straight after a 4-game skid with their 5-to-2 win over the Rays while the Cubs won 4-to-3 last night at Miami.