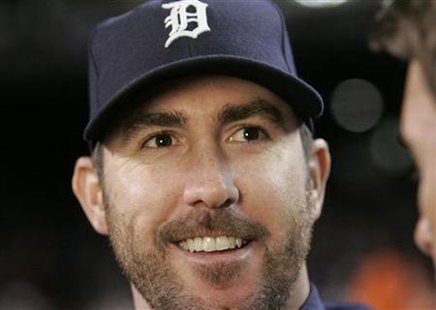 DETROIT, MI (WTVB) - The Tigers pounded the Nationals 11-to-1 yesterday afternoon at Comerica Park, whipping Washington even though Detroit played without Miguel Cabrera, who sat out his fifth game in two weeks because of an abdominal strain. The American League Central leading Tigers have won five straight and 9 of 10 with the sweep of the 2 game set with the Nationals keeping Detroit 3 games up on the second place Indians. Torii Hunter went 4-for-5 for the Tigers including a home run and two doubles with three RBI's.
Justin Verlander pitched six innings of four-hit, one-run ball to improve to 11-and-8. Gio Gonzalez was ripped for 11 hits and 10 runs in less than four innings to take the loss. Also homering for Detroit along with Hunter was Alex Avilla while Victor Martinez added 3 hits. The Tigers take the day off today before continuing their home stand tomorrow night against the White Sox, who fell 6-to-5 in ten innings last night at Cleveland as the Indians won their seventh in-a-row.
The Chicago Cubs salvaged the finale of their 4-game series with the Brewers, beating Milwaukee 6-to-1 last night at Wrigley Field.