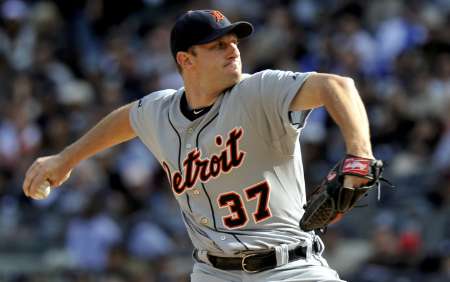 CHICAGO, IL (WTVB) - A tough loss for the Tigers last night in Chicago where the White Sox walked off with a 4-to-3 eleven inning victory. Detroit has dropped the first two games of the 3 game set and will try to avoid a sweep this afternoon. Ex-Tiger Avasail Garcia, who was traded to the White Sox last month, stung his former team last night with a two run triple and also scored twice, including the winning run. Detroit erased a 3-1 Chicago lead, tying the game at three on a Bryan Pena RBI single in the eighth. Pena and Omar Infante both had three hits and one RBI for the Tigers.
Reliever Jeremy Bonderman took the loss for Detroit. Phil Coke surrendered the walk off rbi single that ended the game after coming out the bullpen trying to get out of a one-out, bases loaded jam. It was a no-decision for Detroit starter Max Scherzer with his record staying at 17-and-1 after lasting six innings with four hits and 3 runs allowed, all in the fourth. It didn't help having slugger Miguel Cabrera go 0-for-5 or leadoff hitter Austin Jackson going 0-for-6 for Detroit, part of the Tigers ending up just 2-for-15 with runners in scoring position and 12 men left on base.
The ugly loss left Detroit's lead in the American League Central at six games over the Indians and 6-and-a-half over the Royals. Rick Porcello gets the start for the Tigers this afternoon at Chicago.
The other team from the Windy City also played an 11-inning game last night but the Cubs went down to defeat 6-to-4 to Cincinnati at Wrigley Field.