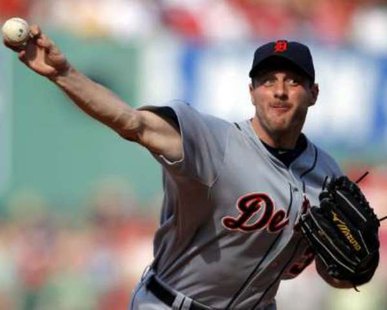 DETROIT, MI (WTVB)- Hours after Miguel Cabrera hit the last pitch out Saturday night, he sent the first pitch he saw out on Sunday afternoon. Like Saturday's walk-off homer, his two-run shot Sunday gave the Tigers a lead they wouldn't relinquish.
The way Max Scherzer was pitching on his way to his 18th win, he didn't need much more. And after four games of close battles with the Royals, the Tigers finally got an easy afternoon in the finale, cruising to a 6-3 win before 41,740 fans at Comerica Park.
Detroit took three out of five in the series, knocking Kansas City 8 1/2 games back in the American League Central. If not for Cabrera's last 24 hours, the Royals could have easily taken this series. If Cabrera needed any more evidence in his case for a second consecutive AL MVP award, this might be it.
The buzz over Cabrera's heroics Saturday still hadn't quieted when he stepped to the plate Sunday and hit Bruce Chen's first-pitch fastball out to left for his 40th home run of the year in Detroit's 124th game. It's the fastest pace to 40 home runs for a player in a Tigers uniform since Hank Greenberg got there in just 109 games in 1938; his 58 home runs that year remain the franchise record.
It was Cabrera's fifth career homer off Chen. Two innings later, with Torii Hunter on second base, the soft-tossing Chen started off Cabrera with a 68-mph breaking ball, slow enough to register as an eephus pitch on MLB.com's Gameday application. Cabrera hit Chen's next pitch into left field for a two-out single, his Major League-best 120th RBI and a 3-0 lead.
Chen entered Sunday on a roll, having tossed 14 2/3 scoreless innings on eight hits over his previous two starts. Five of Detroit's eight hits against him went for extra bases, including back-to-back fifth-inning doubles from Jose Iglesias and Austin Jackson to set up Hunter for a sacrifice fly and Brayan Pena's sixth-inning RBI double over Jarrod Dyson's head to knock Chen out of the game.
Scherzer took that cushion and attacked Royals hitters with relative ease, allowing just two singles over his first six innings before seventh-inning doubles from Alex Gordon and Emilio Bonifacio fueled a two-run rally to break up his shutout bid. Scherzer finished eight innings of five-hit ball, his four strikeouts marking his lowest total of the season.
Scherzer became the fifth Major League pitcher since 1912 to win at least 18 of his first 19 decisions, according to STATS. He joined Roger Clemens as the only Major League pitchers since 1913 to go 18-1 with all of their wins as starters.
(courtesy MLB.com)