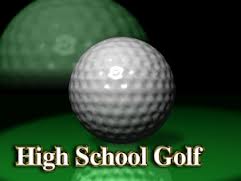 COLDWATER, MI (WTVB) - In Branch County high school sports, in girl's golf, Coldwater yesterday traveled to Jackson and had a fourth place finish out of 12 teams in the Jackson Northwest Invitational at the Hankerd Hills Golf Course. Coldwater shot a team score of 397. Lakewood won the tournament with a 340. Coldwater was led by Anna Wendorf, who shot a 92 which earned her a medal for finishing in 9th place overall. Cecelia Ward had a 98, Kaitlyn Vella carded a 103, Jami Maxson had a 104, and Emma Dwyer rounded out the scoring with a 111.
Tuesday in boy's tennis, Bronson lost 8-to-0 at home to Kalamazoo Christian.
On today's high school schedule, in boys soccer, it's Coldwater at Battle Creek Lakeview in the varsity season opener for Coldwater. The j-v match is scheduled for 5 o'clock with the varsity action set for 6:45 pm. In football, the opening week of the season kicks off tonight with junior varsity and freshman games in advance of tomorrow night's varsity openers which come a day early ahead of the Labor Day holiday weekend. Coldwater's reserve teams are at home with the freshman contest at Cardinal Field beginning at 4:30 with the j-v game at 6:30. Also on tonight's junior varsity schedule, it's Quincy at Bronson and Union City at White Pigeon. In volleyball, it's Union City in a quad meet today at Marshall. In girl's golf, Coldwater will play at the Island Hills Golf Course in the first round of the SMAC League meet. In boy's tennis, it's Bronson at Parma Western. And in cross country, Quincy runs at the Hillsdale Invitational.
Today on the Coaches Corner, it's Bronson football with new head coach Dan Burzynski.