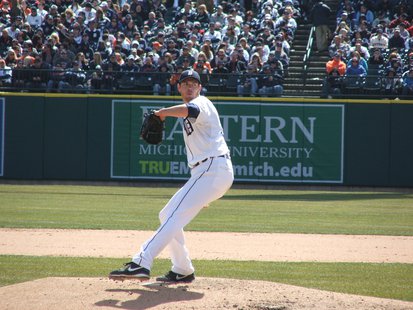 DETROIT, MI (WTVB) - It was ugly last night for the Tigers as they got knocked around by the A's 14-to-4 at Comerica Park and this afternoon Oakland will be out to make it a 4-game sweep in Detroit. In spite of the Tiger's troubles this week, they haven't given up any ground in the American League Central where their lead over the second place Cleveland Indians remains at 5-and-a-half games. The Indians will be in Motown this weekend for three games with Detroit.
Last night, the A's pounded Tiger pitching with a season-high 21 hits, led by Brandon Moss, who belted a pair of homers and knocked in six runs. Detroit starter Doug Fister gave up seven runs in five innings to take the loss. Torii Hunter was 3-for-5 with a solo shot for Detroit. The Tigers today will give the ball to Max Scherzer to see if he can become the season's first 20-game winner as he puts his 19-and-1 on the line against Oakland's Bartolo Colon, who makes his first start since going on the disabled list August 18th with a groin strain.
The Chicago White Sox won last night in Chicago, beating the Astros 6-to-1 while the Cubs were blanked by the Dodgers 4-to-0 Wednesday afternoon in Los Angeles.