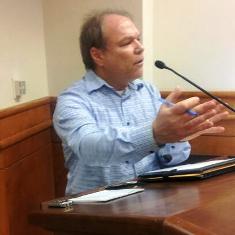 COLDWATER, MI (WTVB) - The Coldwater City Planning Commission last night voted unanimously to turn down a special land use permit for the development of a 40-bed homeless shelter for men downtown at 23 North Hanchett Street. The decision from the nine-member panel followed a nearly hour long public hearing on the permit being sought by Damascus Road Ministries.
Eight of the ten people who spoke at the hearing voiced objections to the proposed location for the shelter where Damascus owner operator Randy Leviton also planned to have a substance abuse treatment center and offices. Most of the public opposition to the plan was based on safety concerns and issues with the would be site of the shelter since it's between two bars with a school also nearby. In addition, the office of City Community Services Director and Assistant City Manager Keith Baker had recommended against the permit request reporting that it failed to meet 3 of the 5 special use standards while noting the city has already identified a suitable location for the project, that being property on South Division Street across the street from the Police Department.
Leviton was issued a permit for that site in January but because of liability issues that surfaced, it was declined. Leviton, who said last night the homeless shelter would be a secure lock down facility, believes he may revisit the Division Street property as possibly a still viable location for the project.